In a recent update to the Worldwide 3D Printing Spending Guide, International Data Corporation (IDC) estimates that organizations in Central and Eastern Europe (CEE) will invest more than $917 million in 3D printing hardware, software, services, and materials this year. IDC expects that 3D printing revenue in the CEE region will post a compound annual growth rate (CAGR) of 28.0% over the 2016–2020 forecast period, reaching $2.30 billion in 2020. Manufacturing, professional services, and education represent the three largest verticals in the forecast update, and are predicted to jointly account for over three-quarters of total CEE 3D printing spending in 2016.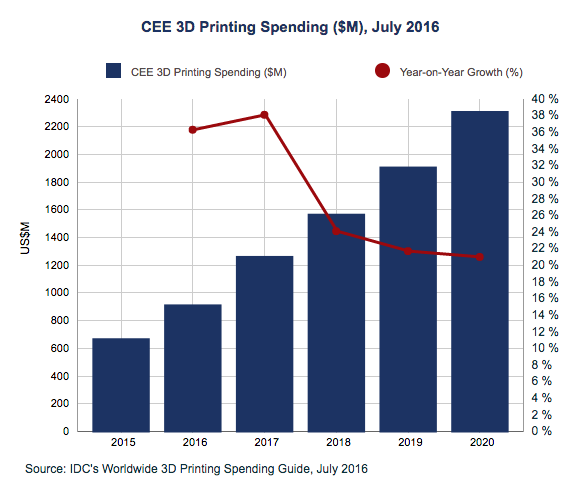 The manufacturing vertical alone will account for more than half of the overall spending in CEE this year. Furthermore, according to IDC, this high proportion will be sustained, as the fast growth of 3D printing expenditure in the manufacturing sector is set to continue at a CAGR of more than 22% over the forecast period. Despite being the largest vertical in spending terms, the manufacturing sector is still far from being saturated; for example, in our latest annual survey, less than 10% of the manufacturers reported that they were currently using 3D printers. Discrete manufacturing companies, in particular, stand ahead of all other types of organizations in terms of spending. This stems from the vast array of different use cases in this branch of manufacturing, ranging from rapid prototyping to customized equipment and components. The rate of adoption of 3D printing in manufacturing has been observed to be by far the highest in product design departments, followed by manufacturing operations, while the supply chain and aftermarket area has lagged behind up to now.
The use of 3D printers in process manufacturing has not been that extensive thus far, though we are seeing use cases in which 3D printing is helping CEE manufacturers to simplify some more complex processes, including molding, casting, and tooling. Metals, plastics, and rubber industries, for instance, are already benefiting from reduced scrap and the flexibility to offer advanced and customized products with lower turnaround times.
Our research shows that product lifecycle management leaders are the most knowledgeable in 3D printing matters, as well as the most influential when it comes to purchasing and implementation. This comes as no surprise, as 3D printers coupled with other 3D technologies give product designers rich possibilities to optimize product designs and improve manufacturability by incorporating 3D-printed components into the end product. "When leveraging 3D printing across their value chain, it is evident that manufacturers take a downstream approach," says Martin Kuban, senior research analyst responsible for IDC's research among CEE manufacturers. "Positive impacts typically cumulate along the entire value chain, so even a small product change can, in the end, bring the company substantial benefits," he explains.
In point of fact, 3D printing is bringing a new wave of flexibility and efficiency to various manufacturing industries. One of the leading engineering and manufacturing companies operating in CEE recently shared with IDC the story of how they realized the benefits from the independent printing of unique parts, reducing the need for outsourcing production and increasing their own flexibility in the assembly of final products. In addition, 3D printing has allowed the company to shorten lead times and improve quality by precisely adjusting the printing parameters, which has reduced the complexity of the manufacturing process and accelerated the delivery of end products to customers.
IDC also sees strong potential for companies offering 3D printing as a service and 3D printing-related services in the CEE region. "Despite the fact that the price of 3D printers has been consistently falling over the years, CEE companies understand that buying just one high-end machine is still an investment of tens or even hundreds of thousands of dollars," notes Zdenek Krouzel, senior research analyst with the imaging, printing, and document solutions (IPDS) team at IDC. "Thus for research purposes or proof-of-concept projects, outsourcing the 3D printing process will, in many cases, be the most viable and affordable option." Certain 3D printing companies that are already well established in CEE are investing in several additive printing systems simultaneously, meaning that they (or their local distributors) can print products on demand using many different types of materials in addition to providing 3D printing advisory services.
The Worldwide Semiannual 3D Printing Spending Guide quantifies opportunities for 3D printers. Spending data is available for more than 20 use cases across 20 industries in eight regions. Data is also available for 3D printing hardware, materials, software, and services. Unlike any other research in the industry, the comprehensive spending guide was designed to help IT decision makers to clearly understand the industry-specific scope and direction of 3D printing expenditures currently and over the next five years.
Source: IDC